We meet early in Belfast City Centre at Bed & Bike HQ, your bike will be fitted to you so that you are ready to head out in the best of comfort.
You will have overnighted in preparation for your guided cycling holiday in a Belfast city centre Hotel, ideally located a short walk from Bed & Bike HQ. We leave Belfast on the Comber Greenway, 8 miles of traffic-free tranquillity which was ranked third in the Sunday Times top beautiful British cycling routes as we head for the small town of Comber, our welcome first pit stop and birthplace of Thomas Andrews, the designer of the RMS Titanic and among the many who went down with the ship.

We then cycle on to our lunch stop, Daft Eddy's, a family run Bar/Restaurant on a small island on Strangford Lough which we access by bike, across a causeway.
After lunch we tackle the last ten miles of Day One, routing our bikes along quiet lough coastal roads to the picture postcard village of Killyleagh, home to the famous 12th Century Killyleagh Castle (myth has it that the Disney castle modelled on it); still in private ownership it is a family home, claimed to be the oldest inhabited castle in Ireland!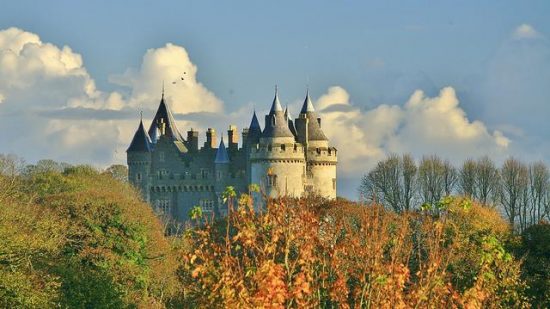 Accommodation is lough side, boutique and locally owned, with dinner of locally sourced produce served overlooking Strangford Lough. There is always the welcome option of a short walk to the local pub for a night cap!